Welcome to custom H/O slot car services
I was 12 in 1977 when I got into this hobby and modifying bodies and chassis and making my cars faster. In 1981 I was 16 and started into the hobby of hot rods and I sold my track and cars and all parts I had. Now I wish I hadn't, but when your 16, your interests change so fast and you don't think for the future. In Feb. of 2002 a co-worker and friend got me back into this hobby. We went to a slotcar store in Lorain and he purchased a new super G-plus for about $ 35.00 and he suggested I do the same, I told him that I would purchase a T-jet for $ 10.00 and that I would make it close to as fast as his "Speed out of a box". If I still had the "touch" I would get back into this hobby, well I guess I haven't lost it (Thank God) and thanks Mark for getting me back into this hobby.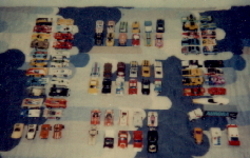 What do I offer?
Are your h/o cars old or worn? let over 41 years of experience revitalize & brighten your cars for you with:

* Chassis modifications & upgrades
* Wheel & tire modifications & upgrades
* General cleaning
* Armature balancing
* Custom Body modifications also available

** Work done on all kind & makes of h/o slot cars **
* Repair of broken chassis & parts also
Slot cars from my childhood which include: T-jets, AFX non mag., AFX mag., G-plus, Tycopro, lighted and not lighted, even an Oscar the track cleaner.
This Photo is probably from 1977, boy I wish I still had these cars. What a collection huh?
Site Enhancements (comming soon)
Frustrated? Don't throw away those old, worn out or broken cars. Let us use some of our secrets, with the knowledge over time and testing items & ideas over the years, which have been researched extensively but to me it was worth it, for the sport of the hobby. So now I offer my years of experience to you the racing ho enthusiast.Let us help to make your race cars run faster, smoother, have better traction on the track and run cooler longer (so as not to burn up parts as fast) There are two ways to get a hold of me: e-mail me or call me.
Send an email
It's easy to navigate around on this site just click on what interests you

********** 1/28/09 Check out the new pics and the new stuff on the the "Photo 3 page".*****************
Boy is this nastalga or what?
Photo above is only half the track that I had back then in 1977 it took 4 power packs and 4 large race sets to put this one together.
Email us